Boat and Yacht Cleaning Service
When you own a boat or a yacht, you know that taking care of your vessel is about more than just appearances. It can have a direct impact on its resale value, and neglecting this basic maintenance can lead to costly repair bills in the future due to completely preventable wear and tear in the boat or yacht's interior areas.
UCM Upholstery Cleaning Miami takes the guesswork out of yacht and boat interior maintenance. We've had customers who have tried one type of cleaning product after another to try to clean the walls and ceiling coverings, only to waste money, time, and energy on an imperfect cleaning job.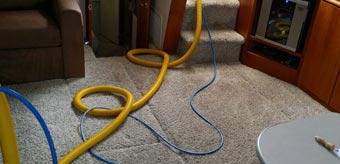 Professional Methods and Equipment
You want the best care for your yacht or boat. Let our experienced cleaning technicians take care of it the right way, removing all traces of salt, dirt, and other particles that can damage even the most robust materials in your vessel's interior. UCM Upholstery Cleaning Miami cleans carpets, headliners, wall coverings, and all kinds of seating upholstery, from fabric to vinyl or leather.
We have a variety of cleaning methods to cover every cleaning situation. From hot water extraction and steam cleaning to rotary brushes, our professional equipment and cleaning supplies will get the job done quickly and safely, without needing to use copious amounts of water to rinse away conventional detergents. Our cleaning solutions are eco-friendly for the best in residue-free cleaning.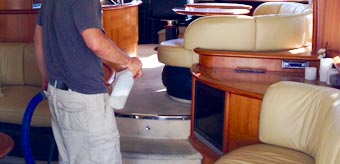 Premium Care for Leather and Vinyl
Our leather and vinyl cleaning service will give you the best performance from your seating surfaces. UCM Upholstery Cleaning Miami can help your leather or vinyl upholstery maintain its high durability, suppleness and extreme comfort, not to mention its luxurious appearance. Custom cleaning processes get deep into the pores and crevices to remove the dirt that normal everyday cleaning misses, and conditioning softens and protects the surface to help keep it that way.
Schedule Cleaning with Us
Call UCM Upholstery Cleaning Miami today at 786-475-2545 to schedule your appointment for a free on-site estimate. Depend on us when you need boat interior cleaning, yacht furniture cleaning or regular steam mattress cleaning.