Upholstery Cleaning Services
Have you ever tried to keep your furniture spotlessly clean? It's like trying to walk up a down escalator, especially when you have kids or pets. No matter what you do, dust, dirt and body oils will collect on your upholstery, not to mention the stains and spots from food and beverage spills.
If only your upholstery could look new again!
UCM Upholstery Cleaning Miami offers great cleaning results for your upholstery, using low moisture methods or our gold standard steam cleaning, depending on the fabric type and composition. We can remove stains from even difficult to clean materials, like micro-suede and velvet. Our experienced technicians tailor the cleaning to each piece of furniture.
The Right Method for Your Upholstery Fabric
The experienced upholstery cleaners at UCM Upholstery Cleaning Miami know a lot about upholstery fabrics and how to best treat the fibers they're made of.
If there is a label on piece of furniture, we will know the fiber and the recommended cleaning method, whether water-soluble detergents or dry cleaning solvents should be used for that fabric. Even if the label is missing, our technicians know how to test the fiber and will always use the right cleaning method to take the best care of your upholstery fabric.
Professional steam upholstery cleaning
When a fabric can be safely cleaned with water, our upholstery steam cleaning will do an excellent job. In steam cleaning, jets of hot water and cleaning solution agitate the fabric's fibers to loosen the dirt and then a powerful vacuum extracts the water and the dirt for a deep, quick-drying clean.
Leather upholstery cleaning
Leather? No problem! Our technicians provide excellent maintenance cleaning for your leather upholstery, restoring the critical moisture balance that keeps leather looking great for years.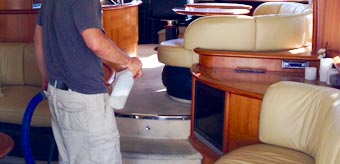 Renew Your Stain Protection
When you bought your furniture, it probably came from the manufacturer with stain protection. This soft protective layer wears away over time and needs to be reapplied to prevent spills from absorbing into the fibers and staining them. If there are pets or children in your household, we recommend applying stain protector to your newly cleaned upholstery. Our products are safe for everyone in the family.
Call today for your free phone estimate. Your satisfaction is guaranteed!